Editor's note: This iteration of The Gauge includes a methodology change that more accurately differentiates Hulu Live and Hulu SVOD viewing. This change does not reflect a change in consumption. Rather, it reflects how viewing is being credited. The net impact is roughly half a share point, which affects both Hulu SVOD and total streaming.
Total television usage inched up 2% in October, bolstered by a 9.4% increase in broadcast viewing. While the seasonal uptick in October isn't unique, this year's gains were achieved without the benefit of a robust new programming schedule. Without any new scripted programming, the broadcast boost was almost entirely attributable to sports programming.
The robust NFL schedule and the MLB's World Series were the primary drivers of the 15% rise in sports viewing across broadcast channels, powering October to its third consecutive month of broadcast gains. It was also the largest gain for broadcast since January 2023. The increase in sports viewing also attracted an influx of younger viewers: broadcast viewing among 18-24-year-olds was up 15%. On a year-over-year basis, however, total broadcast viewing was down 5.6% and the sports genre was down by 8%.
Cable benefited from double-digit gains across the news and sports genres (17% and 19%), with news taking the top-genre crown capturing 21.8% of cable viewing. While these gains resulted in 0.9% more viewing, it wasn't enough to keep pace with the total TV trend, causing a loss of 0.3 share points for the month to land at 29.5%, the smallest share for the cable category to date.
Trending the opposite of broadcast, streaming gave back share for a third consecutive month, although usage was almost flat with September (-0.6%). Without the methodology change noted above, however, the share loss would have only been 0.4 instead of 0.9. While usage was largely stable across platforms, October featured a couple of unique data nuggets:
Suits remained the top program, but viewership was down a third from September. Netflix, which offers Suits along with Peacock, retained eight of the top 10 streaming titles in October.
Disney+ viewing was up 1.5%, and held the other two top streaming titles: Bluey and Elemental.

Amazon Prime Video usage was up 1% and continues to peak on Thursdays due to NFL games.
Without the typical rush of new scripted content this fall, it's likely that we'll continue to see atypical TV usage trends until mid-to-late first quarter 2024. At that point, it will be interesting to see if usage spikes, which would be a trend break from what we're accustomed to seeing at that time of year.
Nielsen offers you Digital Ad Ratings and the new Streaming Video Measurement Now Available In Local Markets if you're looking for Cross-Platform Measurement insights.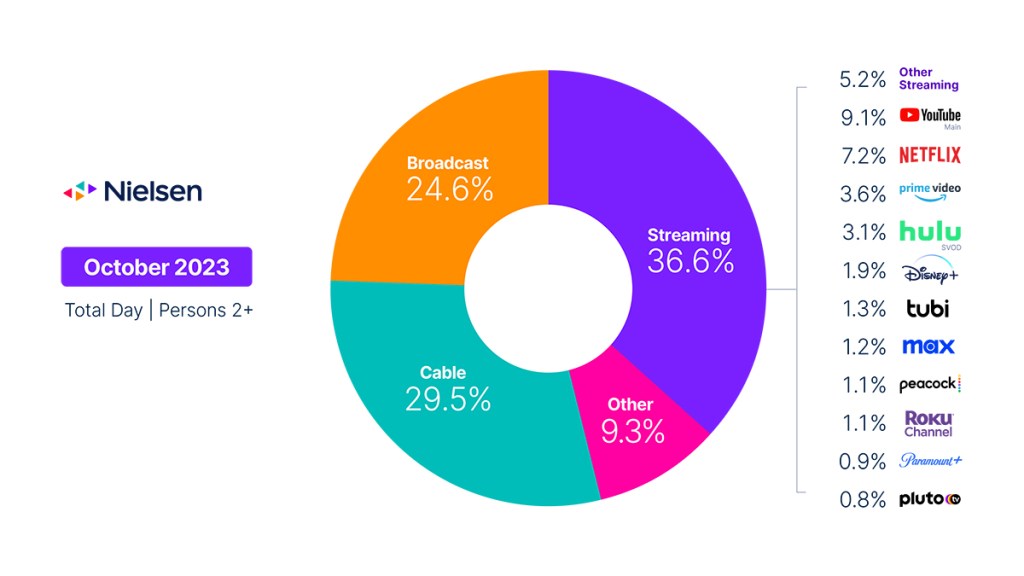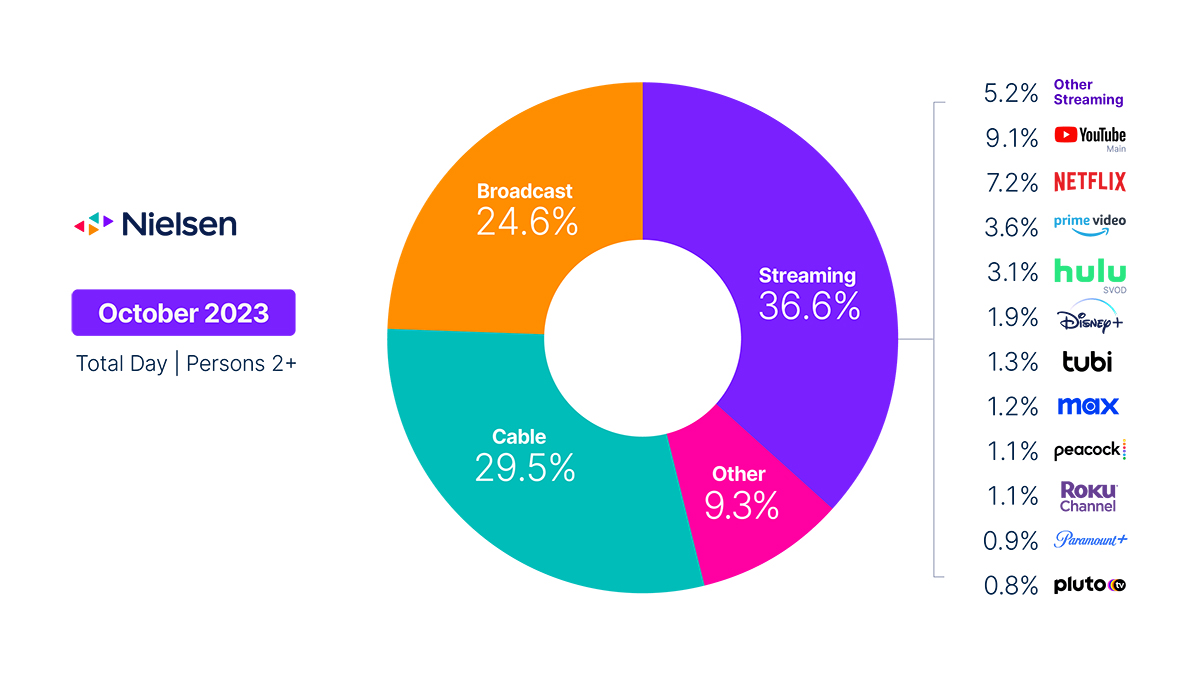 Fill out the form to speak with a specialist >
---
CTV AND STREAMING GLOSSARY
Few areas of the media landscape have taken the spotlight over the last year like streaming video has, fueled by increasing consumption and a wealth of new platform and content options. In June 2021, for example, streaming accounted for 27% of total TV time in the U.S., much of which is attributable to the fact that 77% of U.S. homes now have at least one connected device.
Given the growth in consumption and accompanying advertising opportunities, it's not surprising that 60% of U.S. advertisers say they plan to shift ad dollars from linear TV to either connected TV (CTV) or over-the-top (OTT) this year. But given the breadth of the CTV universe, identifying ad opportunities isn't always clear, and neither are many of the terms and acronyms that marketers and industry participants use, such as programmatic, CTV, OTT and advanced TV.
This glossary aggregates many of the terms and acronyms used to provide clarity amid a quickly evolving and important space in the broader media industry.
GLOSSARY
Ad Sequencing
Ad serving method where a set of ads are shown in a predefined order i.e. creative B is shown after a user has been exposed to creative A.
Advanced TV
All non-traditional TV. It's the umbrella term encompassing over the top, connected TV and addressable TV.
AVOD
Ad-supported video-on-demand.
Behavioral Data
Data that represents buying and media consumption actions and habits.
Connected TV
TVs that have access to an internet connection and can stream video content. This can include smart TVs or standard TVs with a connected device (Apple TV, Roku, Chromecast, Amazon Fire TV, etc.)
Global Frequency Capping
Ad serving feature that ensures a user is only exposed to a certain number of ads within an allotted time period.
Home Screen Ads
Static ads that sit on the home screen. They're typically a short video or image and can feature a call to action like 'learn more'.
In-stream Video Ads
15- to 30-second long ads that play before or during the program. They are a clever and cost- effective way to reuse your existing television ads for connected TV.
Incremental Reach
Unique audiences exposed to your ads, beyond those you are reaching via other screens or mediums.
Interactive Pre-Roll Ads
The same as in-stream video ads, except they allow the viewer to click through to a landing page. For example, if you're advertising a movie, this type of ad could bring the viewer to a page where they could book a ticket.
MVPD
An acronym for Multiple Video Programming Distributor. These companies are content providers that deliver broadcast and cable programming to audiences through traditional means, such as cable boxes and satellite subscriptions. Examples include Comcast, Dish and Cox.
Over-the-Top (OTT)
Streaming services like Hulu, Netflix, Amazon Prime, YouTube TV and Disney+ that can be streamed on any internet-connected device without a cable or satellite subscription.
Private Marketplaces (PMPs)
Customizable, invitation-only marketplaces where premium publishers make their inventory available to buyers.
Programmatic TV
Technology-automated and data-driven method of buying and delivering ads on linear TV.
Streaming
Streaming refers to the delivery of audio and video content to a device (phone, tablet, computer, TV) through an internet connection. Streaming content can be delivered wirelessly as well as through a wired connection.
Suppression
Utilize advanced techniques to prevent targeting someone who already bought a product or service.
SVOD
Subscription video-on-demand.
vMVPD
An acronym for Virtual Multiple Video Programming Distributor. These companies are content providers that deliver aggregated live and on-demand video content through an internet connection. Examples include Sling TV, Hulu Live TV, YouTube TV, DirecTV Now and fuboTV.
Contact us if you would like a PDF of the Glossary.
Nielsen offers you Digital Ad Ratings and the Streaming Video Ratings Report if you're looking for Cross-Platform Measurement insights.
Fill out the form to speak with a specialist.